"Guys, stop it! I'm not done yet."
This article is incomplete! As such, some of the information might be inaccurate or likely to change. You're very welcome to help us improve the article, by adding more information or correcting the mistakes!
Rufus is a sturdy, dark-brown and black male wolf, the current leader of Hielo's pack.
Physical appearance
Edit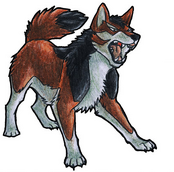 Personality
Edit
Before the events of the comicEdit
Rufus does not make any appearance in Chapter one or any of the other chapters except Chapter Four.
Rufus only appears in a flashback, told by Flama. Rufus was once a regular member, apart of Hielo's pack. However, he wanted the position of leading wolf, and Flama as his mate. In order to do so, he'd spread false rumors to the other pack members, in order to poison Hielo's reputation. Rufus, after destroying Hielo's reputation, broke out into a battle with him, to which he won, becoming the pack leader. When Flama refused to join him, he simply left her and Hielo alone, taking the entire pack with him.
Relationships
Edit
Read more
Edit