"It wasn't me, I swear!"
This article is fan-made!

Its content was not created by the author of Chakra, but by one of its awesome readers!

San jeon-won is a Wing Wolf created by Gingacreator on DeviantArt. Although he doesn't appear in the official story, he does appear in the alternate version but only as a statue and through a flashback.
Physical appearance
Edit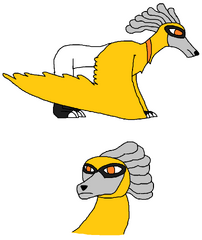 San jeon-won is a rather unique wolf all in his own compared to the other winged wolves, mainly because his wings are fully attached to his body, like the wings on a bird. His fur and feathers are colors of autumn as described by many wolves of the valley of the wind. his wings on his forelegs reach far behind him, and he also has a set of feather-like crest on his head.
Personality
Edit
Not too much is known about his personality. The only clue is a quote said by Szafir, saying he's "as brave as he is reckless".
Before the Story
Edit
San jeon-won was alive far before the Chakra Heroes were born. His childhood wasn't any better then what Led is going through, but his problem was his wings. he was treated unfairly due to his poor hunting skills. He was treated pretty well for his flying, since he had much better control. Ajna, one day, came across him. She gave him the power of the wind and sun, and San jeon-won was responsible for the safety of the valley. As time went on though, the winged miracle decided to find Ajna and return the favor. He did manage to find her and upon doing so, became the member of the original Chakra Heroes.
For many years, he remained loyal to his team, he remained loyal until the very end, dying from old age in the very same cave his statue was made. The statue was created as his gravestone in the valley, for he had a very strong "hunch' that his reincarnation would be a wing wolf as well.
San Jeon-won's design and inspiration were based off Ho-oh from the Pokémon franchise.
San Jeon-won is the only winged wolf able to balance perfectly on two legs.
Read more
Edit